Skip hire doesn't need to be complicated. Whether you're looking to do a little bit of refurbishment work on your home, or you have a large summer project planned to overhaul your landscaping, we have produced this guide to help you out.
To help you decide on what skip size you may need, we have provided a simple illustration below of our most popular skip size in comparison to the average person, and the number of full black bags that can fit in each.
The prices are indicative only, so please contact us for up-to-date prices.
£100 VAT FREE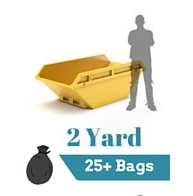 £120 VAT FREE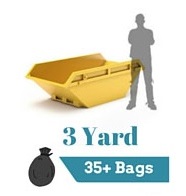 £150 VAT FREE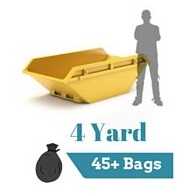 Do: Get the right size skip
Most skip companies will offer a wide range of skip sizes for you to choose from. The idea is that you choose the size which best suits the amount you'll be wanting to dispose of. If you order a skip which is too large, you'll have wasted money, while a skip that is too small will mean you have to order multiple, costing you more. Try to calculate which size you need to save yourself time and money. Some skip companies, like us, offer discounts when ordering multi smaller skips.
Do: Think about safety and positioning
There are several options available for where to place your skip. As discussed above, skips on the road will likely require a permit, but you could also opt to have it delivered onto your driveway, front or back garden if there is space and enough access. These options would eliminate the need for a permit so it is worth taking the time to assess your options before hiring a skip.
Don't: Put hazardous waste in your skip
Safety and legal regulations dictate that only certain types of waste can be accepted in skips. While your standard home or garden renovations probably won't include a lot of hazardous waste, you should still be aware that we do not accept certain items, including:
Fridges and freezers
Oil and paint cans
Rubber tyres
Medical waste
Batteries
Food waste
Electronics
Mastic tubes
If you're unsure about what you can and cannot place in your skip, please contact us and we'll be happy to advise you.
Don't: Burn waste inside the skip
There are a number of reasons you shouldn't do this, the most important one being that it can be dangerous. You could also cause damage to the skip and end up paying a hefty price for the skip to be replaced.
Don't: Overfill your skip
The general rule is that your waste should not come up higher than the top of the skip container. Too much waste in one skip – known as overfilling – means the maximum weight is likely to be exceeded and means the driver could be prosecuted because of the dangers this represents. Any overfilled skips could be subject to an extra charge, with the driver refusing to take the skip.